Fair Skies
Heather Fair
907-232-5414
Nigerian Dwarf Dairy Goats
Whole herd tested negative for Johnes, CAE and CL annually. Last test August 2008. Copies of complete test results always provided to buyers.
Now accepting deposits on 2009 kiddings.
In addition, we have one yearling buck available for sale at this time.
Call, e-mail, or check website for availability.

Eight Stars
Rayna Fritcher
907-373-8082
Nigerian Dwarf Dairy Goats, Nubians, Kinders, Pygoras, Pygmies and Boers.
Call or e-mail for availability.

My Kids Farm
Karlene Brouillet
907-357-4865
Goats for sale include: Nigerian dwarves, Mini Nubians, Mini Alpines, Purebred Nubians, Purebred Boers, Experimentals and American Alpines.
Please see website or call for a complete list of what I have for sale at this time.

Boreas Acres Pygmy and Nigerian Dwarf dairy goats
Laura Manary
907-745-6010
Palmer, AK
Boreas Acres Snickers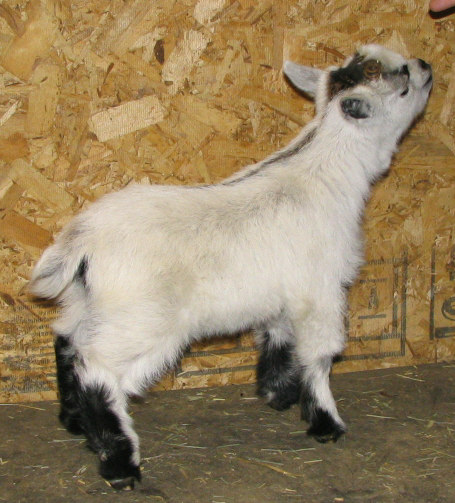 White caramel buckling DOB:3/31/08
For Sale: Winterhaven's Opal and Prairie Wood Chocolate Moose had two gorgeous bucklings. The White Caramel buckling is available as a herd sire. Please see my website for more information.
Herd tested Negative for Johnes, CAE and CL.
Registered Buck Service available to approved does:
Dark caramel Pygmy buck
Brown caramel Pygmy buck
Black and White Nigerian buck
Red with White Nigerian buck

Winterhaven
Robyn McBride
(907)376-4951
Pygmy and Nigerian kids available. Please call or e-mail for more information.
Buck Service available – Two registered Pygmy bucks and one registered Nigerian buck.

SilverAurora
Suzanne Nevada
(907)376-4951
Wasilla, AK
Quality Registered Nigerian Dwarf Dairy Goats out of top milk production bloodlines. CAE and Johne's tested negative annually, never a case of CL either.
We do ship!!!